Back to Member Archives
Ron Calderon (D) - District 30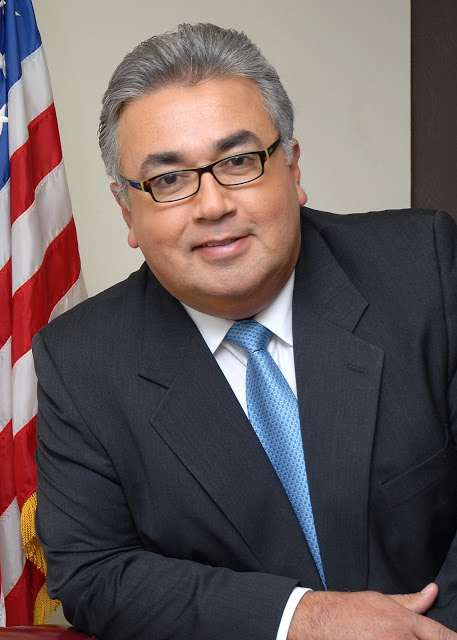 Senator Ronald S. Calderon was elected to the California State Senate in November 2006 and reelected in November of 2010. Senator Calderon chaired the Senate Insurance Committee and the Select Committee on Film and Television Industries.
He was a member of Senate Standing Committee on Banking and Financial Institutions, the Environmental Quality Committee, and the Governmental Organization Committee. Senator Calderon was a member of the California Film Commission and served as Vice-Chair of the California Latino Legislative Caucus from December 2010 to December 2012.
Senator Calderon was elected to the 30th Senate District after representing many of the same communities during two terms in the State Assembly, where he served as chair of the Banking and Finance Committee and as Assistant Majority Leader. Senator Calderon proudly represented the cities of Bell, Bell Gardens, Commerce, Cudahy, Huntington Park, La Mirada, Los Angeles, Montebello, Norwalk, Pico Rivera, Santa Fe Springs, South El Monte, South Gate, Whittier, East La Mirada, East Los Angeles, Florence-Graham, Hacienda Heights, South Whittier and West Whittier.
Senator Calderon was the second of his family to serve in the State Senate and the third to hold a seat in the legislature. His oldest brother, Charles Calderon, was elected to the State Senate in 1990 and was termed out as Assembly Majority Leader in December 2012. Middle brother Thomas Calderon served in the State Assembly from 1998 to 2002. Senator Calderon's nephew Ian Calderon was elected to represent the 57th Assembly District.
Born and raised in the city of Montebello, Senator Calderon attended Montebello High School, graduated from the University of California at Los Angeles, earning a Bachelor of Arts degree in Psychology and attended Western State University of Law.
Before his election to state office, Senator Calderon served as a manager in the manufacturing industry and as a mortgage banker and real estate agent. His experience in financial affairs, along with his ownership of a small sales marketing firm are reflected in his ongoing interest in small business and a vibrant local economy.
Senator Calderon's public policy views also demonstrated his dedication to developing an honest and balanced State budget, strengthening state and local infrastructure, protecting the rights of consumers and creating jobs.
Throughout his legislative career, Senator Calderon was been a champion for economic stimulus through job retention and creation and the improvement of California's business climate.
In 2009, he authored legislation to fund a $500 million, five-year film-tax credit program , an incentive to keep film productions from leaving California – along with the jobs they create – to other states that offer more favorable tax breaks. The program has been credited for pumping billions of dollars into the economy while creating or retaining thousands of jobs. Senator Calderon has continued his fight to stem "runaway production" with successful legislation last year to extend the program for two-years and $200 million.
Regulation reform:  In 2011 legislation by Senators Ron Calderon and Fran Pavley designed to create a better business environment in California was signed into law in 2011. The bill requires state agencies to craft regulations with an estimated cost of more than $50 million in the least burdensome, most cost-effective method of implementation for affected businesses and is the most significant revision to California's Administrative Procedures Act in three decades.
Homeowners Bill of Rights: Senator Ron Calderon was instrumental in the passage of the Homeowners Bill of Rights in 2012. As a key member of the conference committee that shaped the consumer-protection legislation, Senator Calderon made sure the Homeowners Bill of Rights provided unprecedented protections against some of the more abusive tactics employed by lending institutions during the foreclosure crisis, such as "robo-signing" and "dual-tracking," while guiding its passage through the Senate.
More protections for distressed homeowners: In 2009, legislation by Senator Calderon was signed into law, giving distressed homeowners seeking loan modifications protections against scam-artists looking to make money through the bad fortunes of others.  The bill ensures that borrowers don't have to pay up-front fees for loan modification services. 
Tax-relief: Senator Calderon was been a champion, fighting to ensure that distressed homeowners who must relinquish their homes through a "short-sale" do not face state income tax for the forgiven mortgage debt.
Fighting Metal Theft: The California Sheriff's Association in 2008 named Senator Calderon "Legislator of the Year" for his role in combating the crime of metal theft through the passage of legislation to curb the insidious crime that inflicts rural and urban communities.
Animal Welfare: Senator Calderon won the praise of animal-welfare organizations through his fight to increase penalties and punishment for those who engage in the cruel endeavors of cock-and-dog fighting.
Senator Calderon lives in Montebello with his wife Ana.  They have two children, Jessica and Zachary.  Jessica is a graduate of Cal State Fullerton.  Zachary attends the Berklee College of Music in Boston.