Back to Member Archives
Norma J. Torres (D) - District 32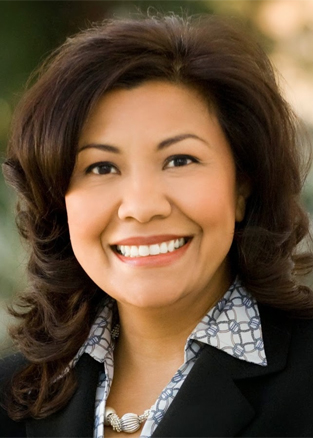 BIOGRAPHY
Senator Norma J. Torres, elected in May 2013, represented the 32nd Senate District which included Bloomington, Colton, Fontana, Montclair, Muscoy, Ontario, Pomona, Rialto, and San Bernardino.  She previously served as a State Assembly Member and as a Mayor and Council Member in the City of Pomona. Throughout her career Norma Torres has worked to make government more responsive to residents of the Inland Empire.
As a state Senator, Torres played a significant role in making the Affordable Care Act work for California's patients and consumers.  She led efforts to increase access to health insurance and improve care.  Her law to diversify Covered California and expand their enrollment efforts to the state's uninsured population earned her statewide recognition and national attention.  Understanding that our healthcare system often ends up leaving many prescription drug patients paying more for their treatment than is necessary, Torres passed a consumer protection law requiring health insurance companies to be more transparent in the way they present information about prescription drugs covered by their plans.  She also improved the quality of care in underserved areas by writing a law that generates more revenue for programs that train and place doctors in those communities.
As an Assembly Member, Norma Torres led efforts to provide financial assistance to millions of California families negatively impacted by the great recession.  As Chair of the Committee on Housing and Community Development, she led an effort to secure $2 billion in federal funds for the "Keep Your Home California" program which helped thousands of families avoid foreclosure during the economic crisis.  She also passed the Homeowner's Bill of Rights and authored legislation to accelerate the construction of affordable housing, help delinquent homeowners refinance their second mortgages, and make it easier for returning veterans to purchase homes.
Fighting crime and making sure the public safety system is responsive to the needs of the community has been a lifelong priority for Torres.  As a former 9-1-1 dispatcher, she drew on her expertise to write a law that modernized our 9-1-1 system—resulting in a system that now routes cell phone callers to their local police department, rather than a statewide hotline, during an emergency.  Torres also authored legislation to help prevent metal theft, keep drivers under the influence of drugs off our roads and highways, stop peeping toms from exploiting victims, and to raise fines on criminals who tamper with online data.  In response to a wave of corruption in local and state government last year, Torres championed anti-corruption laws that will make it easier for prosecutors to convict elected officials and individuals who receive bribes or engage in other acts of public corruption.
A native of Guatemala who immigrated to the United States at the age of five, Torres is currently the highest-ranking Guatemalan-American elected official in the United States.  She is recognized nationally and internationally as a guest commenter on Central American issues and has been an honored guest in Guatemala, where she toured the country, met with Heads-of-State, spoke to the national congress at their Plenary Session and was honored with their country's highest recognition.
The California Sheriff's Association, California Association of Realtors, California Disability Services Association, League of California Cities, Professional Engineers in California Government, Yellow Ribbon America, La Cooperativa Campesina de California, and the American Hero's Foundation, among many others, have recognized Torres for her outstanding leadership and service to our communities.
Norma Torres is a longtime resident of the Inland Empire and lives in Pomona with her husband Louis, and their sons Robert and Matthew. A proud supporter of the US military, her third son, Christopher, is a veteran of the United States Air Force.  Torres graduated from the National Labor College in Silver Springs, Maryland with a bachelor's degree in Labor Studies.
In 2014, Torres was elected to the U.S. House of Representatives.
LEGISLATION