Back to Member Archives
Ellen M. Corbett (D) - District 10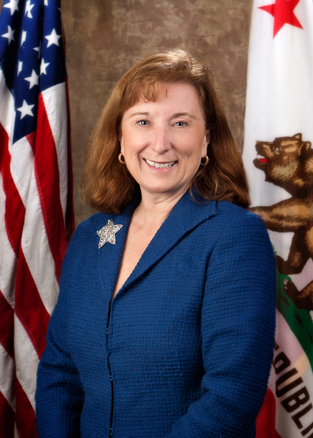 BIOGRAPHY
Senator Ellen M. Corbett served two terms in the State Senate and as Senate Majority Leader from 2010-2014, only the second woman in history to serve in that capacity.
As Majority Leader, Senator Corbett was responsible for helping set the Democratic agenda and managing the Senate's Floor operations.
Throughout her legislative career, she worked on a myriad of policy issues affecting California and East Bay residents, particularly those focused on strengthening California's economy, standing up for consumers and protecting our natural resources while encouraging the growth of our green economy.
A lawyer and civic activist, Senator Corbett authored over 160 bills signed into law that include:
requiring seismic safety inventory of K-12 school buildings and recommending future school improvements;
providing student loan options and risks information to students;
protecting privacy of domestic violence and stalking victims;
expanding emergency financial assistance for sexual assault and/or domestic violence victims;
preventing sale of illegal guns at gun shows;
requiring retailers to provide cash back to consumers for gift cards;
strengthening Internet privacy and user account protections;
improving safety standards for limousine passengers;
requiring training on gender identity and sexual orientation for judges;
crafting the California Car Buyers' Protection Act;
prohibiting sale of e-cigarettes to minors;
expanding existing network of electric vehicle charging stations;
ensuring compliance with lead plumbing testing standards;
requiring mortgage servicers to meet with borrowers, if requested, before foreclosure;
serving as Lead Author of historic California Homeowner Bill of Rights
Beyond chaptered legislation, Senator Corbett also championed causes and bills that benefited residents throughout California, including fighting to protect children's safety and consumers' personal and financial data on social media and Internet websites, worked to facilitate development of larger 12-point font prescription drug labels to keep patients safe and heading the effort to include $2 million for brain mapping research in conjunction with the federal BRAIN Initiative to help uncover the causes and treatments for brain injuries and disorders, such as Alzheimer's, Parkinson's, multiple sclerosis and mental illness.
As Chair of the Senate Budget Subcommittee 3 on Health and Human Services, Senator Corbett fought for approval of the Commercially Sexually Exploited Children Program to aid child victims of human trafficking, increase in protections for assisted living residents in cases of licensee non-compliance and support for the Early Start program to offer intensive counseling for young children at risk of developing autism and other developmental disabilities.
Senator Corbett, as Chair of the Select Committee on Emerging Technology: Biotechnology and Green Energy Jobs, has hosted multiple hearings throughout California discussing the vital importance of Cal-BRAIN and brain mapping research, as well as emerging green and clean technology programs that grow California's economy and help fight climate change.
As Chair of the Assembly Judiciary Committee, Senator Corbett also shepherded passage from committee—for the first time in a state legislature in the United States—marriage equality legislation that moved California closer to ensuring that all Californians have the freedom to marry the person they love.
Senator Corbett has a long history of public service in the district. She served as a City Councilmember and was the first woman elected Mayor of San Leandro. Prior to that, she worked as an attorney, community college professor and civic activist.
A native Californian raised in the East Bay, Senator Corbett attended local schools and California State University, Hayward. She graduated from the University of California, Davis and McGeorge School of Law.
Senator Corbett is the proud mother of her successful son, Ryan Boehme, who recently achieved national Emergency Medical Technician (EMT) certification.
LEGISLATION